Yacht lifestyle on your iPad
Live your dream and present yacht lifestyle on the iPad wherever you are.
Take the chance to present your yacht on the Apple iPad and on the iPhone. Inform your guests about your yacht, offer details concerning equipment and furnishings, sport offerings and the comprehensive service around the yacht.
Luxury yachts have iPads on board, which are always available for customers.
Interested visitors can explore the yacht on their personalized iPad.
Why is your yacht something very special?
What awaits guests on your luxury yacht?
Which gourmet menus are offered?
Which drinks can I order on the yacht?
A convincing photo with a description of the drink makes the choice easier.
The orders are made with the fingertips.
The staff is informed via email and can serve right away.
---
Yacht Lifestyle App for iPad and PC
Yacht lifestyle becomes even more comfortable with the iPad. On the yacht, precise orders and wishes can be fulfilled more quickly and more efficiently. The iPad helps your guests get a faster overview over your yacht and familiarize themselves with the yacht lifestyle. It's also a perfect way to fight boredom. New offers, pictures of the yacht and texts can be updated quickly and they are instantly available. There are no language barriers on an iPad.
The bigger the offer on a luxury yacht, the more exclusive the guests and the more unusual the wishes, the more lucrative it becomes to
professionally present your yacht on the iPad.
A video about the unique equipment and furnishings of your yacht fascinates the viewers, so they will become even more convinced of the yacht's quality and value. It's impossible to give everybody a tour of the yacht, on which you show the VIP suites with their queen-size beds, the spacious and elegant seating corners, as well as the marble baths, which are equipped with Jacuzzi tubs.
---
My recommendation: The Universal App for Luxury Yachts
An exciting presentation on the iPad is always available to guests and customers, so they can inform themselves. If you have a barrier-free website of your yacht and if that website meets the latest standards, the viewer can use it like an app in the browser. That's why I offer you to create a website, which is optimized for touch screens, and can be used on the iPad, the iPhone, the iPod touch, as well as on a Mac or a Pc. Videos and picture animations can be integrated into the websites about your yacht. Your home page can be used like a real iPad App. Your "Yacht Lifestyle App" would also be available to people who don't use an Apple iPad.
"Design is not just what it looks like and feels like. Design is how it works." (Quote by former Apple boss Steve Jobs about the importance of design)
---
The iPad has changed Yacht Lifestyle and Yacht Marketing
When going on the iPad-controlled super yacht Solemates which was designed by Espen Oeino and launched by
Lürssen
, every visitor is handed an iPad. With the iPad, they can control the lighting, the entertainment, as well as the climate system on the yacht and they can also adjust the blinds in their cabins. Messages and orders can be sent to every crew member through the iPad. Would you like to be invited to the
captain's dinner
? There is an App for that - just send the captain a message.
A lot of companies have chosen to downsize, and maybe that was the right thing for them. We chose a different path. Our belief was that if we kept putting great products in front of customers, they would continue to open their wallets.
(Quote by Steve Jobs about Apple's business strategy, hidden in the latest Apple operating system, Lion)
---
iPad apps for your Private Yacht Lifestyle
Face Time for Mac enables video calls on the iPad 2, the iPhone 4 and the iPod touch. Say hello to the yacht crew, invite your friends to go snorkeling with you, order a helicopter for a sightseeing flight with a smile on your face, reserve the submarine by video call - that's my yacht lifestyle.
Elite Traveler offers the lifestyle magazine "Elite Traveler Superyachts Summer"
LifeStyle Guide App is a magazine with topics around health and beautiful pictures
deluxe Magazines in German with topics like VROOM-VROOM IN MONACO
Marine Traffic Which yachts are nearby?
The app shows ships all over the world with name and direction of travel as a live map. Selected ships are shown with a picture preview and further information. More pictures from different photographers are available for most ships. Yachts and ports can be looked for. Vessels can be saved and retrieved as MyFleet.
---
Where is the world's biggest and most expensive private yacht Eclipse, owned by Roman Arkadyevich Abramovich?
Does the superyacht Dubai, Sheikh Mohammed bin Rashid Al Maktoum's 162-meter yacht, still lie at anchor in the port of Dubai?
Is the superyacht Al Said, which is owned by the Sultan of Oman and has a length of 155 meters, close to us?
Other interesting yachts of friends, acquaintances and neighbors, which you can see along the French Riviera in Antibes, Saint-Tropez, Saint-Jean-Cap-Ferrat and Villefranche-sur-Mer: Superyacht Al Salamah owned by Sultan ibn Abd al-Aziz, prime minister and crown prince of Saudi Arabia
Superyacht Rising Sun owned by David Geffen, music and film producer and director
Serene Motor Yacht 134 meters long, which was launched in 2010 by Fincantieri Yachts
Al Mirqab Yacht owned by Hamad bin Jassim bin Jaber bin Muhammad Al Thani, prime minister and foreign minister of Qatar
Octopus Megayacht owned by Paul Allen, co-founder of Microsoft, Crew 57, built by Lürssen in Germany in 2003
Katara Megayacht built by Lürssen in 2010, often at anchor in the port of Antibes in southern France
A Megayacht 119 meters long, owned by the Russian businessman Andrey Melnichenko
Turama Megayacht 117 m, charter yacht, Atlantis II Megayacht, 115,82 m, owned by the Niarchos family
Pelerus Megayacht 115 m, owned by David Geffen, music and film producer and director
Le Grand Bleu Megayacht owned by Evgeny Markovich Shvidler, Russian businessman and friend of Roman Abramovich
Dilbar Megayacht 110 m, owned by the Russian businessman Alisher Burkhanovich Usmanov
Radiant Megayacht 110 m, owned by the Al Futtaim family from the United Arab Emirates
Lady Moura Megayacht 104,85 m, owned by Nasser Al-Rashid, businessman in Saudi Arabia
---
Ecstasea Megayacht waiting for the photo shoot in Antibes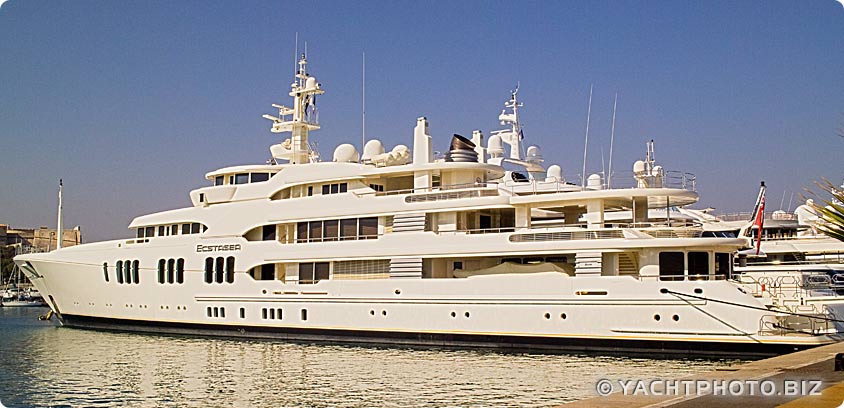 ECSTASEA Megayacht with a steel hull and aluminium superstructure was built in the Netherlands by Feadship Yacht builders
Other interesting megayachts, which belong to the 100 biggest yachts
Christina O (John Paul Papanicolaou), Carinthia VI (Heidi Horten), Limitless (Les Wexner), Megayacht Palladium, Indian Empress (Vijay Mallya), Tatoosh (Paul Allen), Mayan Queen IV (Alberto Baillères), Megayacht Nero (Wickhaven Limited), ICE Megayacht (Suleyman Abusaidovich Kerimov), Lauren L, Dabawi, Asean Lady, Musashi, Fountainhead, Phoenix, Seven Seas, Ecstasea, Cakewalk, Sunrays, Vibrant Curiosity, Pacific, Moonlight II, Alysia, Delma, Valerie, Talitha, Alfa Nero, Sarafsa, Air, Golden Odyssey, Amevi, Constellation, Stargate, TV, C2, Eminence, Montkaj (Muhammad bin Fahd), Titan, Tango, Tueq, Princess Mariana, Samar (Kutayba Youssef Ahmad Alghanim), Ocean Victory, Anastasia (Vladimir Olegovich Potanin), Leander G, Giant, Enigma, Ilona, Salem, Sapphire, Pegaso, Rabdan, Silver, Laurel, Siren, Silver II, The One, Predator, Queen K, Coral Island, RM Elegant, Azteca, Kogo, Utopia, The One, Skat, Absinthe, Martha Ann
Sail yachts:
Eos (92,92 m), Athena (90 m), Maltese Falcon (88 m), Mirabella V (75,2 m), Phocea (75 m), Adix, Felicitia West, Creole, Baboon, Islander. Some of them, I was able to photograph.
With an Apple Apple iPad or an iPhone and the Marinetraffic App you can find out if those impressive megayachts are near you.
I'm looking forward to requests for photo shoots in connection with yachts, interiors, food photography and lifestyle photo shoots. I'm also available for photo processing, web and iBook designing or for app developing. My recommendation: Use the functions of the Apple iPad to present yacht lifestyle.
---
Updated on 2014-05-21