Yachts in Port Hercule at the Formula 1 in Monaco
Yachts with a view to start and finish of the race: THE SNAPPER, SISTER ACT, SUN CHASER, LA PELLIGRINA, DIAMONDS ARE FOREVER, MY DARLINGS DANAMA, CASINO ROYALE, OMEGA, INDIAN EMPRESS, FORCE BLUE, ANDREAS L, BARAKA, KINTA, PLATINIUM, HURRICANE RUN, TIARA, LIONHEART, LADY ANN MAGEE, RAASTA, SARITA, JBH, SOFIA 3, SARITA, CALLISTA, DEBS DELIGHT, XO OF THE SEAS, KYRENIA, SCRATCH. Other yachts with view to the race track: SALU, QUID PRO QUO, AVA, ATLANTIDE 1, IN ALL FAIRNESS, SOLAIA, HANA, AXIOMA, ACHILLIS F, PANTHALASSA, DENIKI, MY/ELISABET, MORE, DEJA VU, MAKIRA, S BERNARDO, MAC BREW, TOBY, LA DEA, TOBY, PASSIONATA, JAZZ OF MONACO, ALEXANDRA V, ZULU
---
Yachts Port Hercule at the Formula 1 in Monaco in the background
IMPERIA, MY FAITH, RAHAL, M.Y. LIBRA STAR, BABYLON, PEGASUS, PACHA III, SPEEDY ONE, MARIU, SHERAKHAN, LADY BEATRICE, SEALYON, SEABOURN LEGEND, DELMA, CAPRI, AQUA LIBRA, TUGATSU, IMPULSIVE, MELANYA, MY RAHIL, SPARKLING, ROBY, AMINAH, HELIX, MAGNA GRECIA 4YOU, WERE DREAMS, LA GIOCONDA, M.Y. Twisted
---
Yachts at the Formula in the sea in front of Monaco
Yachts at the Formula 1 2013 in the sea in front of Monaco: WINDSURF, AZAMARA QUEST, ODESSA, CRYSTAL SERENITY, IL VAGABONDO, RASSELAS, MARJORIE MORNINGSTAR, FATHOM, MEAMINA, GO/014, PERLA BLU, RM ELEGANT, VICTORIA-M, MORNINGSTAR, TOMMY, ICON, SOURAYA, RM ELEGANT, MY LITTLE VOILET, AMARULA SUN, MAYAMA, HAYKEN, CHIMERA, SCORPION, BLIND DATE, PEGASUS V, MADAME GU, LATTITUDE, LAMMOUCHE, DOUBLE TROUBLE, LAMMOUCHE, TRIPLE SEVEN, TWO KAY, QUEEN AIDA, HERMITAGE LI, BLACK AND WHITE, DYNA R, ALTESSA LV, REE, GAZOU, NERO, ECUREUIL, OKHALILA, 2DIR8, BELUGA, PAMELA V, WILD THYME
WallyPower Open Yacht 70.2 in Monaco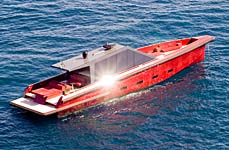 WallyPower Open Yacht 70.2
built at WallyEurope in Fano. The glass structure is open, the deck is a large open space. The WallyPower Open 70.2 is available with three different interior layouts: "lunch" boat with the owner's suite plus a very large galley; three guest cabins; and suite with an immense owner's stateroom taking up half of the accommodation area. The 70.2 WallyPower and the 70 WallyPower Open were launched 2006. Length overall 21.9 m/71.9 feet, Length waterline 17.9 m/58.7 feet, Beam 5.48 m/18.0 feet, Draft 0.94 m/3.1 feet, Displacement 34 t, Fuel 3800 lit., Water 650 lit., Max speed 40 knots
Baglietto Superyacht Sofia 3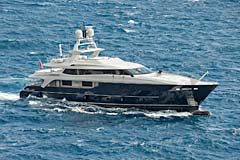 The
Baglietto Sofia 3
(ex: Macalulu; Le Yana) comes to Monaco. Her attractive blue hull and elegant exterior lines were designed by Francesco Pazowski. The 42.75 m 140.26 (ft) in length Motor Yacht offering a flexible accommodation layout for up to 12 guests with 9 professional crew. She can reach a high speed of 16.5 knots. Her contemporary interior by Pedro Pena combines neutral soft furnishings with designer furniture and dark wood flooring for a sophisticated and modern feel. The motor yacht main superstructure is made mostly from aluminium. Her propulsion units are twin screw propellers. The total power for the boat is accordingly 3899 HP / 2910 KW.
Rasselas Motor Yacht in Monaco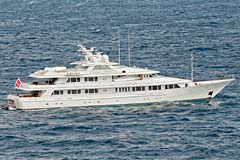 Rasselas Yacht
at MONACO YACHT SHOW in Monaco: The Motor Yacht 62.00 m, 203.41 (ft) in length launched by De Vries Feadship. Rasselas has a classic mahogany interior with phenomenal standards of fine detailing and execution, including many exquisite details such as pillars, niches and elegant cabinets. Incidentally, mahogany has now become so scarce that Rasselas will probably be the last major boat with an interior made from this tropical wood for years to come. The owner's stateroom features a luxurious bed with green velvet head and sideboards. Like other double beds onboard Rasselas, this one is 'California king-sized' ten centimeters longer than a standard king-size bed.
XSR48 Speedboats in Monaco
The
XSR48 Speedboat
from XSMG Marine is the world's first true superboat. With the acceleration and handling of a thoroughbred supercar on an ocean, the XSR48 superboat offers the freedom of high speed enjoyment. The XSR48 has a Kevlar/carbon-fibre monocoque hull. Deriving 1600hp from its two bi-turbo 11.3L diesel engines, the 48ft XSR48 promises extraordinary handling and mid-range acceleration in achieving speeds of 75 knots. The vessel has been developed in collaboration hull designer Fabio Buzzi, superyacht designers Redman Whiteley Dixon and marine structure specialists High Modulus and will be manufactured at the Berthon Shipyard in Lymington.
Harle Motor Yacht in Monaco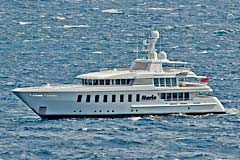 The
Harle Motor Yacht
honored with the Best Power 40m-65m award 2008 by the International Superyacht Society was built by Feadship/Royal Van Lent. Like the F45 predecessor Space, launched in 2007, Harle synthesizes all of Feadship's expertise in design, construction, engineering, systems and materials. The F45 concept offers a choice between four highly distinctive interior styles: Monaco (informal French), Milano (modern), Nautical (traditional) and Miami (classic art deco). Harle Motor Yacht 44.65-meter (146' 6"), Charter Guests: 12 in 5 luxurious staterooms, and a convertible private office, Cabins: 6, Cruise Speed: 12 knots, Max Speed: 14 knots, Crew: 9 people.
Yacht 007 Zero Zero Seven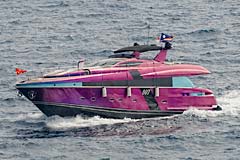 The
Yacht 007 Zero Zero Seven
Boat Name: Rodriquez Vespucci 555, Motor Yacht, the first model of a series of ten unique pieces. Technical specifications: Iridescent chameleon paint, Interior of precious materials: roots, onyx, Furniture and fabrics Paul Luchetta. Length: 23.65 m. Beam: 5,9 m. Engine: Caterpillar C32. Power: 2x1675 hp. The prototype with a continually changing colour scheme: blue, purple and pink, like fashion designer Roberto Cavalli's 40.8 m (133 ft) Baglietto Yacht.
Video Yacht 007 Zero Zero Seven
Updated on 2014-08-04